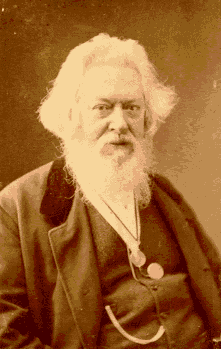 Writer and art historian. Keeper of the National Gallery from 1855 until his death in 1877. His grandson George Grey Wornum wrote about him:"Educated at London University, he left to read for the Bar but abandoned this to study painting for a time. In1834 he went abroad for six years to familiarise himself with the galleries of Munich, Dresden, Rome, Florence and Paris. On his return to London he set up as a portrait painter without spectacular success but his important contributions to art journals prompted Sir Robert Peel to invite him to compose an official catalogue for the National Gallery. In 1855 he was offered the appointment as Keeper and Secretary. Of average height he had a very powerful build, a large head carried a full mane of hair and he wore a full white beard. He captured the hearts of those real Londoners of his time, the cabbies and bus drivers and policemen. They referred to him affectionately as "Old Snowball" and in doing so they conferred no small honour on him."
He worked closely with Charles Lock Eastlake and was a great friend of John Ruskin. He and Ruskin were suspected of conspiring to destroy many of JMW Turner's erotic artworks after Turner's death, though this story has now been discredited and it would appear that if they did conspire at all it was probably to preserve Turner's work from seizure under the then recently passed Obscene Publications Act.
There is an amusing story of how he once absentmindedly unbuttoned Queen Victoria's coat while showing her around the Gallery.
One of his books was "The Epochs of Painting" and there is a review of this book on page 2 of the London newspaper "The Morning Star" dated Monday 21 February 1859. An enlarged and revised edition was published by Chapman and Hall in 1864.
He held the office of Keeper of the National Gallery from 1855 until his death in 1877. He died at his home in North West London and was buried in a grave alongside that of his father at Kensal Green Cemetery, the final resting place of many eminent Victorians.
There is a more extensive biography of RNW in Lee Sorensen's Dictionary of Art Historians.
There is a reference to RNW on www.freefictionbooks.org.
In approximately 1999 a sizeable collection of his papers and personal diaries was found in a house in Porthcawl (Wales) that belonged to his grandson's widow. The papers were acquired by the National Gallery and provided a valuable insight into the Gallery's history. The papers are now in the National Archives.
In November 2009 Professor Beverly K Brandt at Arizona State University published a book entitled "The Craftsman and the Critic" ( ISBN: 978-1-55849-677-4 ). The book is a fascinating and comprehensive study of the Arts and Crafts Movement as it developed within the USA, with particular emphasis on the Society of Arts and Crafts in Boston. Well known British names such as William Morris, Augustus Pugin, John Ruskin and the pre-Raphaelites are put into context along with other eminent British and American artists and critics. The book contains several references to material written by Ralph Nicholson Wornum. The book is evidently going to be a standard reference work for scholars of the subject while also being extremely readable and entertaining for those of us who are not from an academic background. Ms Brandt contacted me early on in the preparation of her book for permission to reproduce the photograph of RNW as seen above.