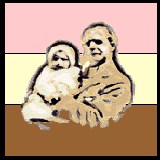 For anyone doing historical research, here are links to three outlines, complete with portraits or photographs:
Robert Wornum (1780-1852) was a pioneer in the development of the piano and patented an invention which is still used in piano actions today.
Ralph Nicholson Wornum (1812-1877) was an art historian and critic who became one of the first Keepers of the National Gallery.
George Grey Wornum (1888-1957) was an architect who was selected by competition in the 1930s to design the architects' own headquarters in Portland Place, London.
The family name is very unusual. There are related Wornums in the United States and Australia as well as in the UK but up until 1998 I believed that there were fewer than one hundred Wornums all around the world.
What follows is a collection of paragraphs about the Wornums, started in 1998. Then there are the updates; this page is very long and getting longer!
11 March 1998: I am contacted by Jesse Wornum from Georgia, USA, who tells me that there is a large population of black Wornums. All are descended from one slave called Ben, who adopted the surname Wornum when he was freed while still a teenager. It was not uncommon for freed slaves to take on their master's name but at that point I could not trace any white Wornums who might have been in America at the time and owned slaves or been a slave master. There are a few white Wornums in the USA now, but they are all descended from George Grey Wornum (who moved to America long after the abolition of slavery) and they are easily outnumbered by the large family of Ben's descendants. Thanks to this web site, I am pleased to have been contacted by other members of that family too. They have reunions from time to time; there was one in Boston in 1997 and about 400 people turned up. Another family member, Taylor Sparks, tells me that at the last count (in 1989) their family had 1792 members, all descended from Ben. The 1999 reunion was held in New Jersey and there was another one scheduled for the 4th of July weekend in 2001.
Curiously, Jesse said that one theory going around about how Ben chose the name was that he took the name of Munrow County in Georgia and spelt it backwards. Now, this coincides with our old family legend about the origin of the name here in the UK: a Scotsman, William Munro of the Clan Munro quarrelled with his brother at the time of the Jacobite uprising in the early 1700s. He fled from Scotland to England and, wanting to have no more to do with his family name, changed it by spelling it backwards, putting the W for William in front to create Wornum. Personally I find this hard to believe, but I like the way the two legends are similar. If the "Munrow backwards" theory were true it would certainly explain why I had not yet traced any white Wornums who would have been in America at the time that Ben was freed.
So, with that in mind, here is another theory: Maybe Ben was owned by someone with a similar sounding name to Wornum, a Wornham perhaps. Our surname is so frequently misspelled and mispronounced. Even these days, after spelling my name over the phone to people they can still get it wrong. Here are 55 ways of getting it wrong.
However, Taylor Sparks is quite clear about the matter. She tells me that Ben married three times and fathered 28 children, of whom the youngest daughter, Pinky is still alive. Pinky has told the story of how her father was owned by a Wornum, a Taylor and a Walker. Given that Pinky has told her father's story to people who are still alive to record it in writing, it certainly gives more credibility; especially to the idea about Ben choosing Wornum as a surname because it was the least common of the three.
There is yet another aspect to this story which relates to the difficult subject of slave owners having sex with their slaves. Taylor tells me that the resulting mixed race offspring were often cared for by the slave owner and treated very well; their births would probably be recorded in the slave owner's property register. Therefore it would appear that even if few records exist of such births, there is a possibility that a few of the white and the black Wornums might be related genetically if not legally. This theory is going to be difficult to prove. We still need to find out if there were any white Wornums living in America at any time up until the abolition of slavery.
FURTHER DEVELOPMENTS (December 1999) :
After the above was written, I received an e-mail, part of which is reproduced below:
By the way, I did not manage to get in touch with the author of what is quoted here; the e-mail address given was not working, so if you are "Andrew" who wrote the following then please get in touch with me again. It would be useful to know the archive and sources of your information.
"Your story about the black Wornums in the US is quite interesting, but the answer to your question about the actual family is that a John Wornum arrived in Northumberland County, Virginia in 1665, after being released from Newgate Prison. Little else is known about the particulars, but this wayward individual appears to be of the same London family of Wornums which would go on to greater things back home. He would father a brood of six children, who would become the origins of the small Wornum family in the United States. A vowel intervenes two generations on, and the name becomes Wornom. This earliest branch of the family in the States has always been centred in the Mid-Atlantic region, mostly along the Virginia coast, and the black Wornums are probably descended from slaves owned by a Samuel Wornom who disappeared somewhere in the early 1800s. The name is rare, exceedingly rare, but you may well have already discovered that it originates in Berkshire in the 13th century as Warneham, meaning 'Warne's home'. As I understand it, the original surname of all of us was Warne, or 'trees', dating possibly from the 6th century (after the Anglo-Saxon invasion of Britain). So our name reflects the settlement of one of us in Berkshire. It's possible that the name is so rare because while our common ancestor added 'ham', everyone else carried on with Warne or went on to become Warners. The actual legitimate spellings of Warneham (at least 12, of which Wornum is the dominant one) are almost as maddening as the misspellings you've encountered. The pronunciation here is also the same as the British one, and it confounds Americans constantly, who like to say WORE-num, with the characteristically hard 'R'."
The reason I'd like to know more about "Andrew's" sources is to clear up just what verifiable records might exist of the transportation from Newgate and the arrival of "John Wornum" in Virginia; my own visit to the London Metropolitan Archives was inconclusive because of the impossibility of deciphering the copperplate handwriting in the Newgate Prison records. We also would need to know how John Wornum is related to "Samuel Wornom" and a bit more about how in the above story Wornum becomes Wornom. There are both Wornoms and Wornums in the USA… so just how closely are the current generations related and where did the divergence occur?
NOVEMBER 2000 developments:
I have been contacted by David Wornham who has shed much light upon the family history.
He has much experience in genealogy and is compiling a database called WRNM which incorporates all related people with the similar spelling of the surname. [Please note that David is no longer managing the above webpage but it is still available to view online] In olden days people compiling parish registers were just as prone to misspelling the name as people are today, and this gave rise to many of the variations now in use. Most of these variations include the key consonants WRNM which is why David's name for the database is so appropriate.
He is looking into possible links between the various branches of the family but of course the spelling variations and the shortage of accurate records, especially before the 1700s, for any family not of noble birth can make things difficult. That's why it is not going to be easy to find any verifiable link between the alleged John Wornum who spent some time in Newgate Prison until 1665 and the Robert Wornum born in 1738 who is the first well documented ancestor of my own branch of the family. I suppose that whatever John Wornum did to land himself in prison, the rest of the family might have disowned him.
DECEMBER 2000 developments:
I am contacted by Maria Wornom Rippe and also by Joseph Wornom, who live in the Williamsburg area of Virginia. They inform me that there is a Robert Wornum piano in the Colonial Williamsburg museum. Crucially, Maria's family are descended from tobacco plantation owners in Virginia and she is compiling a book about her family, descendants of Samuel Wornom, born in Virginia in 1804. Maria not only has details of a branch of the family I did not know about but she refutes "Andrew's" claim that Samuel Wornom disappeared in the 1800s. She has a copy of Samuel Wornom's Will and says that there is no mention in it of any slave named Ben.
SEPTEMBER 2007: A correspondent suggests that I should add more about Ralph Selden Wornum, the eldest son of Ralph Nicholson Wornum. RSW was an Architect who seems to have specialised in grand houses for wealthy clients in the UK and in Europe. His works include a summer palace in San Sebastian for the Spanish Royal Family of the day and, just over the border into France, Le Domain de Francon, near Biarritz, which was built in the Grand Old English Style in 1880 for John Pennington Mellor (in collaboration with another architect, Edward Salomon). Much of the original property is 'listed' (protected) by the local authority; the property attracts groups of visitors (photographs).
Closer to home, another collaboration between Ralph Selden Wornum and Edward Salomon may be seen at 43 Bond Street, London. This was formerly Agnew's Art Gallery and is currently (2016) occupied by Etro, the Italian Fashion house.
OCTOBER 2007: Information about the Ralph Nicholson Wornum papers can be accessed via the British National Archives.
I have been contacted by Anthony Maurice-Wourman Ruttenburg, who is directly descended from Ben Wornum (1845-1933), referred to above. Anthony is Ben's great great great grandson and his name shows yet another variation of the spelling. He tells me about Audrey Smith's webpage, which has further details about Ben and his descendants. Audrey says there was a Samuel Wornum living in Northampton, North Carolina in 1790 in a household of about ten free white Wornums so this is the closest clue connecting a family that might possibly have owned Ben's parents as slaves before their son Ben was freed from slavery and adopted the Wornum surname. So: was this Samuel Wornum the same man as "Andrew's" Samuel Wornom… and was he descended from "Andrew's" John Wornum and what can Maria Wornom Rippe tell us about her ancestor Samuel Wornom (b. 1804)  and his descendants?
NOVEMBER 2009 : Professor Beverly K Brandt at Arizona State University has published a book entitled "The Craftsman and the Critic" ( ISBN: 978-1-55849-677-4 )
The book is a fascinating and comprehensive study of the Arts and Crafts Movement as it developed within the USA, with particular emphasis on the Society of Arts and Crafts in Boston. Well known British names such as William Morris, Augustus Pugin, John Ruskin and the pre-Raphaelites are put into context along with other eminent British and American artists and critics. The book contains several references to material written by Ralph Nicholson Wornum. The book is evidently going to be a standard reference work for scholars of the subject while also being extremely readable and entertaining for those of us who are not from an academic background. There is more information here. Ms Brandt contacted me early on in the preparation of her book for permission to reproduce the photograph of RNW as seen on this site.
JULY 2011: In 1896 the author Joel Chandler Harris (well known for the "Uncle Remus" stories) wrote a book entitled "Sister Jane" or to give its full title:  "Sister Jane, her friends and acquaintances. A narrative of certain events and episodes transcribed from the papers of the late William Wornum". This book contains some disturbing words for those of us reading it in the 21st Century but it reflects the vocabulary and the attitudes prevalent at the time.
JUNE 2017: Jane Wornom Swallow, from Salt Lake City, Utah, USA has sent me copies of a Will dated 19 April 1632 by one John Wornam. She tells me about a christening record of a John Wornum dated 12 January 1651 from the church of St Botolph, Bishopgate, London. This child's parents are named as William and Hester (Hester possibly a maiden surname?). Could these two Johns be related? Also there is a Will dated 13 August 1777 by one William Wornum, of the parish of "St Botolph without Aldgate". In it, William Wornum refers to his wife Mary and his children Ann and William.  Jane said that Maria Wornom Rippe had found a record of a John Wornom taking on an apprentice as a cordwainer (shoemaker). Jane also sent me a copy of a record from The Cordwainer Company in London which, on first glance, includes a record of a "Samuel Wornum" being bound as an apprentice. However, upon closer inspection it looks to me more like "Samuel Turner". I am more than happy to send these copies to anyone who requests them; it all helps piece the stories together. My concern is that a lot of the well-meaning research may be arriving at speculative conclusions based upon wishful thinking. Again, the variations on the spelling of the surname (see Wornum / Wornom / Wornam above) plus the impossibility of deciphering old fashioned handwriting make the job far from easy.
There do seem to be many Johns and Williams in the family based around Middlesex, whereas in my own documented ancestry the first name Robert is the one with most occurrences and Berkshire is the first named location, back in 1738. Can we link them?
Snippets of information are useful so please do contact me if you think you have anything of interest. It is always useful to shed more light upon the family history, the prospect of tracing all the links within such a complex family (made more complicated by the variations of spelling) is rather daunting but an interesting challenge.
Contact me by email to: ant501 (at) hotmail (dot) com